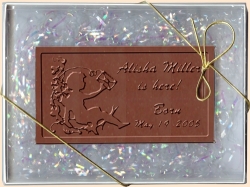 Custom Sweets!™ is a specialty custom molding division of our main business but we needed a site more specific to our custom chocolates, candy bars, and confectionery molds.
Custom Sweets!™ was born from a new mold making technology that allows us to make custom chocolate, low temp candy, and soap molds with words and designs on them in a very timely manner and at a price that the average person or small business can afford.
The innovations that came together to make Custom Sweets™ become a reality solved a lot of problems with manufacturing on a custom level and we were still able to keep it at a price the average person could afford. As U.S. businesses seem to be farming out more and more work to China and other countries, it has become increasingly more valuable and important to bring business back home and place it in the hands of those around us.
With the use of computer generated graphics and proprietary thermal forming mold technology, we built the custom mold part of our business around the idea of making it possible for anyone to mold their own custom and stock candy or soap products.
As a small business, our goal is to provide products that we would want ourselves, to those that want nothing less for those special times. Some events in our lives only come once, and sharing those special moments with friends and family, or faithful customers, cannot be said with anything less than something you put your own heart and hands into by making your own custom chocolate gifts.
There are lots of companies out there that provide printed labels to put on candy bars you can purchase at any store, and that is a great idea. But, when you mold your own chocolate or candy into something special, and put that item into a special gift box or bag, you are making a statement like no other! Our ultimate goal is to make your investment in time and money stand out in the crowd.
Ease of use, and fun, had to be a part of the plan. Making custom candy or soap can be done by the whole family with a microwave and a refrigerator! With the use of confectionery melts that can be purchased at most craft stores or food stores, nothing could be easier. You can provide a special treat for an entire wedding party, baby shower, special dinner, or any other event, and have time to get it all done, even without a production kitchen! You can make it a family tradition to serve a custom chocolate treat for the holidays and keep your molds for years to come and bring them out just for your special occasions.
From an individual graduating school, fund raising events, to small businesses found in every community, there is a desire to have something new and fresh like products you make yourself. We are going to strive to do our best to listen to our customers to keep things fresh and innovative.
We want you to know we are real people with a small and personal business, and are here for you!